Welcome to the home of the: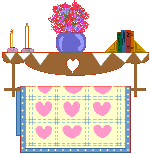 SHELTIE QUILTERS



Thank you for stopping by to check on the progress of our quilt. We started this project to help Sheltie Rescue. Almost 50 people have combined efforts to work on this worthy project. The year 2000 quilt was a smashing success. SOOOO, we decided to make it a yearly tradition!
To join our list and help with this worthy cause
OR

We can always use volunteers.
---

<! -- Begin Quilt A Round code fragment -->

<! -- End Quilt A Round code fragment -->




Web Site Design by Myshelties.com please report any problems here